Halloween Beads Page 11
Bats and Cats. it's Halloween time again. The bats measure approx. 1.5" wingtip to wingtip and are .75" to 1" tall. The black cat faces are about the size of a dime in diameter. The bats are $3.00 each and the black cat faces are $5.00 each.
My cute, scary little ghosties. Price: $4.00 each. They make charming earrings or a Boo-tiful pendant.
You can't have Halloween without candy corn! I have to buy a bag to use as models. Eat 5 candy corn, make a bead. We have two color choices this year- normal orange and yellow. And mutant black, orange and yellow. I got bored with orange and yellow. Please specify normal or take a chance on the mutants! Price: $1.50 each
Witch's Hats. Price: $2.00 each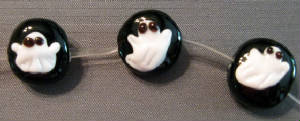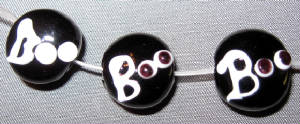 new beads
Boo Beads: These two pictures are front and back of the Boo Beads. Each bead is about 14-17mm wide. Boo beads are sold by the bead at the price of $4 each. A set of two make quick earrings when threaded on a headpin and attached to ear wires.