Raku beads Page 10
Raku#1 The set consists of 7 round raku beads about 10-13mm and 4 tab shaped beads about 13-15mm wide and about 16-18 mm. long. Colors range from cream to gold, purple and copper green. Price: $28.00 for the set.
"Scribbles" Purples and turquoise tab shaped beads measuring about 14mm x 14mm. I only make the beads-you gotta come up with the design! Have fun creating with this set. Price: $24.00 for the set of 7 beads.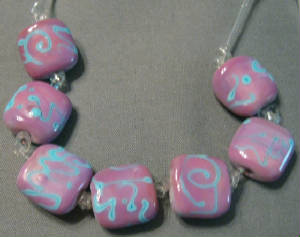 "Purple/Green Raku" A lentil shaped focal bead with two smaller round accent beads. Done in a process to mimic raku clay the beads have a purple background with veins of blues, greens and black. Price: $10 for the set of 3 beads.